Applied Electronics & Computer Technology (AECT)
ASSOCIATE IN APPLIED SCIENCE DEGREE AND CERTIFICATE PROGRAMS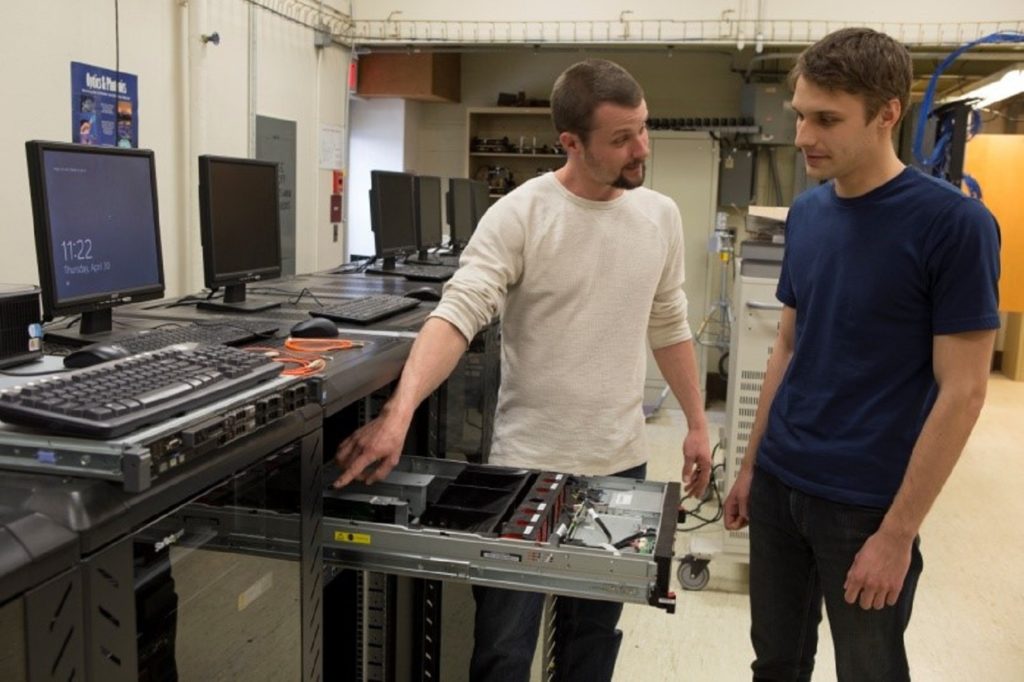 Program Description:
The Applied Electronics and Computer Technology (AECT) program at KVCC is designed to prepare students with the technical knowledge and skills needed for careers in the installation, maintenance, troubleshooting, and support of electronic equipment, wireless communication systems, computers, and computer network systems.
The AECT program provides fundamental to advanced training in analog and digital systems, programming microcontrollers, robotics, wireless communication systems, both client and network operating systems and computer networks.
An integral part of the AECT program is the practical knowledge that students gain through hand-on education. The program is equipped with the latest in test and measure equipment along with computers and computer network hardware. Faculty members employ innovative teaching techniques in a well-equipped classroom-lab facility.
The Applied Engineering Technology (AET) program is designed for students interested in continuing their education at University of Maine, for a Bachelor of Science degree in Electrical Engineering Technology through our transfer articulation agreement. This program path requires advanced math and physics courses in additional to the core AECT courses.
"Enrolling in the Applied Electronics and Computer Technology program at KVCC was an incredible experience for me. The instructors taught me to use high-tech electronic equipment and computers in real-world scenarios."
—KVCC Student
More information on AECT
Educational Outcomes
Upon Successful Completion of the AECT and AET program, each graduate will be expected to:
Practice the technical skills of the electronics, electronic communications, and computer profession in a conscientious, responsible and accountable manner.
Recognize the need of continuing education and professional certification to expand upon their technical knowledge and base of skills.
Communicate effectively and possess the interpersonal skills necessary for success in an information based society.
Utilize critical thinking and problem solving techniques to provide solutions for a technology driven workforce.
Produce prepared applied engineering technology graduates to continue their education towards a B.S. in Electrical Engineering Technology or Computer Engineering Technology.
Both the AECT and the AET programs strive to provide graduates with a foundation for lifelong professional development by the following:
 To cultivate student ability to adapt to changing workplace technologies.
 To communicate proficiently.
 To work effectively in a team environment.
 To provide pathways for professional industry certifications.
The program maintains high academic standards for teaching and learning through a continuous process of self-evaluation. Students are exposed to a learning environment which is safe and supportive of student growth and achievement.
Program of Study
Below are the course and graduation requirements necessary to earn an Associate degree or certificate in Applied Electronics and Computer Technology. Please click here click here for a printable version.
AECT_2021-2022

Professional Certifications
Each student is prepared, and required to take each of the following nationally recognized professional certification exams. These certifications will aid the graduate in gaining employment in related technical fields upon graduation.
A+ Computer Certification: CompTIA A+ Certification covers the fundamentals of computer technology, installation and configuration of PCs, laptops, and related hardware, and basic networking. Also covered in the exam is PC operating system installation and configuration along with network connectivity for mobile operating systems such as Android and iOS.
Network+ Certification: CompTIA Network+ is designed to certify the competency of the computer network technician. The exam covers network technologies, installation and configuration, media and topologies, management, and security. Candidate job roles include network administrator, network technician, network installer, help desk technician and IT cable installer.
Security+ Certification (Elective): CompTIA Security+ certification demonstrates competency in: Network security; Compliance and operational security; Threats and vulnerabilities; Application, data and host security; Access control and identity management; and Cryptography.
TestOut Pro Series Certifications: The TestOut PC Pro, Network Pro, and Security Pro Certifications are true 100% performance-based certifications. Certification which measure not just what you know, but what you can do.
Apple Certified Support Professional (Elective): Verifies an understanding of the OS X core functionality and an ability to configure key services, perform troubleshooting, and support multiple users with essential OS X capabilities. The ACSP certification is designed for help desk professional coordinator, or power user who supports OS X users, manages networks, or provides technical support for the Mac.
Certified Electronics Technician: The Electronics Technicians Association (ETA) exam is designed to measure the degree of theoretical knowledge and technical proficiency of the electronics technician. If passed, this certification will enable the student to be recognized as an Associate Level Certified Electronics Technician.
Read More