Applied Electronics & Computer Technology (AECT)
ASSOCIATE IN APPLIED SCIENCE DEGREE AND CERTIFICATE PROGRAMS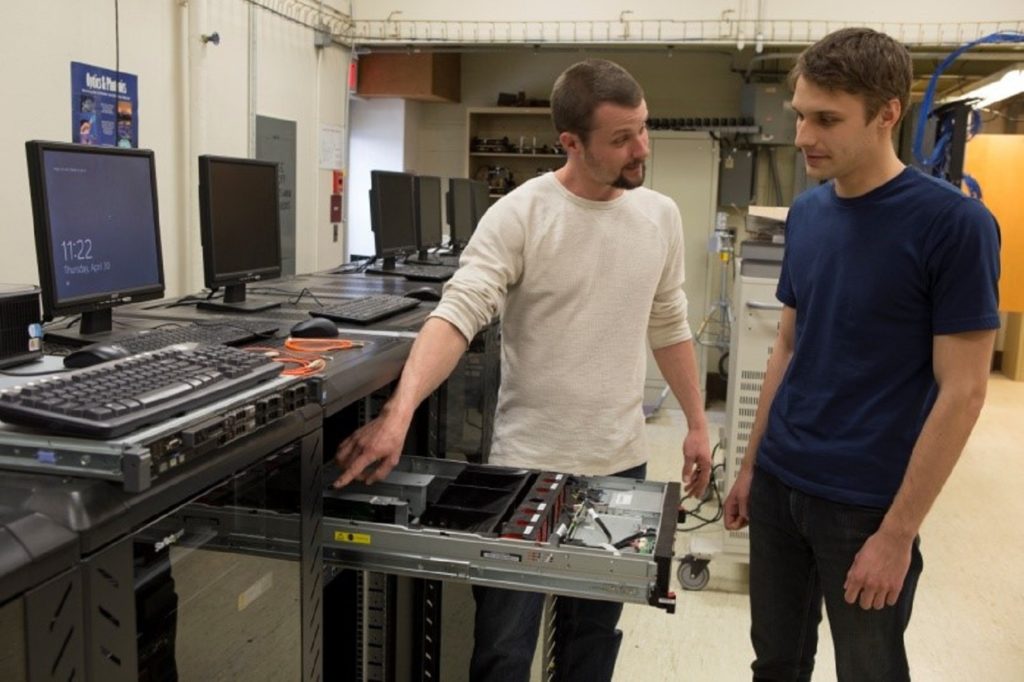 Program Description:
The Applied Electronics and Computer Technology program at Kennebec Valley Community College has expanded its training in network servers to include mobile devices and Apple computer technology. Students are trained to completely setup, configure, and certify computer network installations from the servers to the fiber-optic cable links. The program offers intensive "hands on training" providing students with knowledge, professional certifications, and technical IT skills demanded by local employers.
The newly enhanced Applied Engineering Technology program affords students a direct pathway to earn a Bachelor's degree in Electrical Engineering Technology at the University of Maine at Orono.
Shown above is current AECT student Paul Everett assisting fellow international student Roman Blyzniuk in the latest network server hardware.
*This program is funded in part by a $13 million grant from the U.S. Department of Labor, Employment and Training Administration. This is an Equal Opportunity/Affirmative Action program, adaptive equipment will be provided upon request to individuals with disabilities."
"Enrolling in the Applied Electronics and Computer Technology program at KVCC was an incredible experience for me. The instructors taught me to use high-tech electronic equipment and computers in real-world scenarios."
—KVCC Student
More information on AECT
Program Description
The Applied Engineering Technology (AET) program at KVCC is designed for students interested in transferring for a Bachelor of Science degree in the Electrical Engineering Technology program at the University of Maine Orono, through our transfer articulation agreement.
The goal of the Applied Engineering Technology program is twofold:
To prepare students with the technical knowledge and necessary skills for careers in the installation, maintenance, support, and troubleshooting of electronic equipment, communication systems, computers and computer networks.
Produce calculus prepared engineering technology graduates to continue their education towards a B.S. in Electrical Engineering Technology or Computer Engineering Technology.
Read More