Electrical Lineworker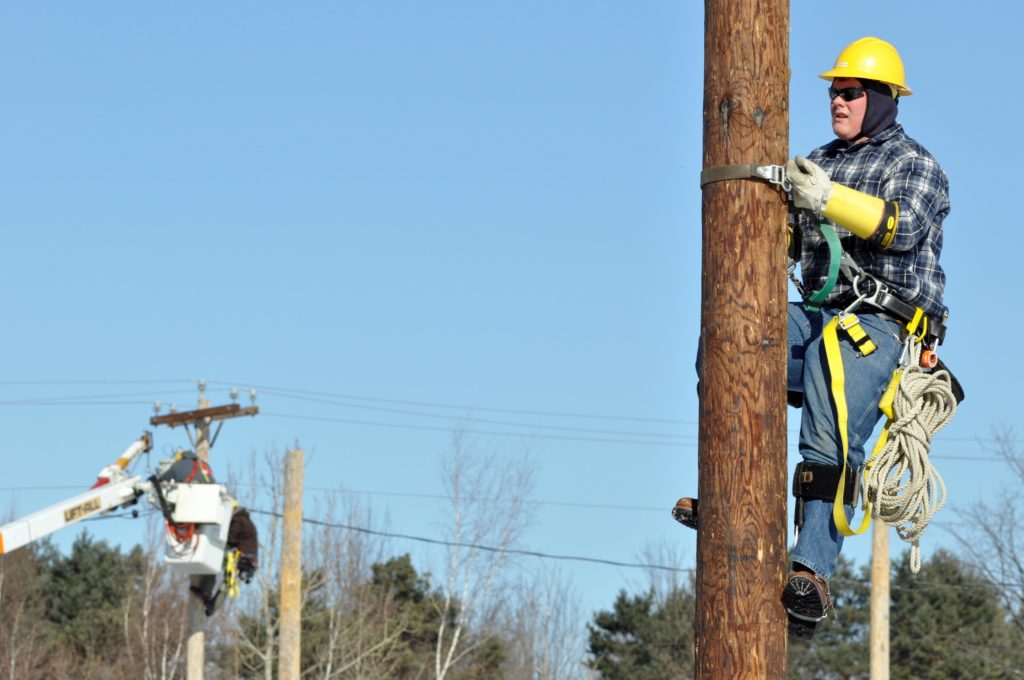 Program Description:
The Electrical Lineworker Technology program is a one (1) year certificate program. The program will provide students with the technical background and the manual skills necessary for careers in the installation and maintenance of electrical power, telephone, and cable television systems. Safety, pole climbing, and teamwork are emphasized throughout the program while the student learns and performs overhead and underground construction.
Students will be exposed to such curriculum topics as AC/DC electrical theory, field training, occupational safety, line construction theory, tree trimming and line clearance, rigging, transformers, basic telecommunications, and utility metering. Approximately two-thirds of the program will be devoted to strenuous hands-on skills, allowing students to develop a high degree of proficiency in the use of electrical lineworking equipment and procedures.
Students are required to have a valid driver's license and to have successfully completed a CDL preparation course. Climbing gear and all necessary tools for the field portion of the program are also required; the climbing gear and tools range in price from $2,000 to $2,500. In addition, students are required to have lineworker safety toe boots with steel shanks; these boots range from $200 to $400.
More Information
Mission & Outcomes
PROGRAM MISSION
The Electrical Lineworker Technology Program strives to maintain a high academic standard for teaching and learning lineworker technology through a continuous process of self-assessment and improvement. Students are exposed to a learning environment that is safe and supportive of student growth and achievement. Using modern training equipment, innovative training methods and highly trained faculty members, the ELT program endeavors to fully prepare students for a variety of line occupations.
EDUCATIONAL OUTCOMES
Upon successful completion of the Electrical Lineworker Technology program, the graduate is expected to:
Practice the electrical and telecommunications skills of the profession in a conscientious, responsible, and accountable manner while recognizing the need to continue to expand their technical knowledge and skills.
Safely climb poles and operate line bucket trucks and pole setting equipment when performing overhead line construction.
Safety, teamwork and critical thinking use the acquired analytical skills to solve problems encountered in a residential, commercial, or industrial field situation.
Admission Requirements
Graduation Requirements
CRITERIA FOR GRADUATION
Students must complete 34 credits in the Electrical Lineworker Technology program and achieve a minimum grade of "C" in all core courses (*). Students must attain a final GPA of 2.0 or higher.
| FIRST SEMESTER | | CREDIT HOURS |
| --- | --- | --- |
|  ELW150* | Lineworker Training I | 11 |
|  ETL109* | Direct Current Theory | 3 |
|  MAT114 | Technical Math | 3 |
| SECOND SEMESTER | | CREDIT HOURS |
| | | |
|  ELW160* | Lineworker Training II | 11 |
|  ENG 108 | Technical Writing | 3 |
|  ETL110* | Alternating Current Theory | 3 |
| | TOTAL CREDITS | 34 |
Career Opportunities
Electrical Lineworker Technology is a fast-growing field with tremendous career growth opportunities. Areas of employment for graduates are numerous, and include:
Power Companies                               Telephone Companies
Cable Television Companies                Line Construction Contractors
View Gainful Employment data for this career field.
Maine Employers:
Central Maine Power
On Target Utility Services
Cianbro
IBEW 104
Burns & McDonnell
L.E. Myers Co.
Safety
Safety is top priority in the lineworker program. When lineworkers start climbing poles, early in the first semester, they climb with safety harnesses that are attached to fall protection devices until they are comfortable with the procedure of pole climbing. Set up and operational use of digger and bucket trucks are emphasized with safety films and field training. Other areas of safety related topics included in this program are:
Hard hat, eye, hand, and foot protection
First aid/CPR, pole top and bucket rescue
Ladder safety and OSHA safety rules
Grounding procedures
Rubber gloving energized conductors (simulated)
Driving Dynamics
Required Tools
BUCKINGHAM BODY BELTS (prices range from $353-$404) Choose one
20181M
BuckMobility, Full Float, 4 dee, Dri-Lex Lined, 9″ cushioned back pad
20182M
BuckMobility, Full Float, 4 dee, Leather Lined, 9″ cushioned back pad
20191M
Short Back BuckMobility, Full Float, 4 dee, Dri-Lex Lined
20192M
Short Back BuckMobility, Full Float, 4 dee, Leather Lined
 

BUCKINGHAM WORK POSITIONING STRAPS (prices range from $235-$353) Choose one

9M8-8
Buck Lever-Just, 8′ Length, Fabric Wear Guard, Kernmantle Rope, Alloy Hardware
9A4+R-8
BuckAdjuster- Rope- 8′ Length- Alloy Hardware- Fabric Wear Guard
9V08KQ9-8
BuckAdjuster- Rope, 8′ Length- Fabric Wear Guard
  9-8
BuckAdjuster- Rope- 8′ Length- Clear Plastic Wear Guard
 

BUCKINGHAM CLIMBER SETS (prices range from $173-$370) Choose one

SB94089A
Offset, steel, contoured shank, complete w/ bottom straps, 4.75 lbs
A94089A
BuckLite II, Offset, Aluminum complete w/ nylon bottom/ankle straps, 3.25lbs
A94089AV
BuckLite II, Offset, Aluminum complete w/ velcro  bottom/ankle straps, 3.25lbs
A94089A-BL
BuckLite II, Offset, Aluminum complete w/ nylon ankle straps, 3.25lbs (BLACK)
TB94089A
BuckLite, Offset, titanium, complete w/ bottom straps, 3.40 lbs
 

BUCKINGHAM CLIMBER PADS (prices range from $112-$145) Choose one

3118
Leather pad w/ metal insert and straps (2pr), black, 9″
31181
Leather pad w/ metal insert and straps (2pr), black, 9″- For Alloy Climbers
3202C
BigBuck Velcro wrap pad w/ metal insert and cinch ring, 9″
32021C
BigBuck Velcro wrap pad w/ metal insert and cinch ring- 9″- For Alloy Climbers
3502C
Velcro cushion wrap pad w/ metal insert and cinch ring, 4″
35021C
Velcro cushion wrap pad w/ metal insert and cinch ring, 4″- For Alloy Climbers
 

BUCKINGHAM CLIMBER ACCESSORIES (prices range from $7-$38) Choose one

6909M2
Gaff Protector – Magnetic
6909A
Gaff Protector, metal dipped
 

BUCKINGHAM NUT & BOLT BAGS (prices range from $28-$30) Choose one

4570B2
Canvas, black, 10″ deep, 9″ wide
4570B2M2
Canvas, black, 10″ deep, 9" wide, with hardware storage magnet
 

BUCKINGHAM TOOL POUCHES (prices range from $60-$90) Choose one

42266-BL
5 pocket w/ 2 way knife snap, black
42666-BL
6 pocket w/ 2 way knife snap, attached knife sheath, black
42266S-BL
5 pocket w/ 2 way knife snap, black, short back
42666S-BL
6 pocket w/ 2 way knife snap, attached knife sheath, black, short back
 

BUCKINGHAM SKINNING KNIVES (prices range from $16-$27) Choose one

7086
Yellow plastic handle, 1-3/16″ D x 5″ L with ring, 9″ OAL
7089
Red plastic handle, 1-1/16′ D x 5-1/2″ L with ring, 9-1/2″ OAL
7091
Black rubber ergonomic handle, 1-1/4″ D x 5-3/4″ L with ring, 9-3/4″ OAL
7091G
Hi-Vis Green rubber ergo handle, 1-1/4″D x 5-3/4″ L with ring, 9-3/4″ OAL
 

BUCKINGHAM TOOL BAGS (prices range from $90-$179) Choose one

45331Y
TNX, yellow, fold over rain flap, masonite bottom, 11″W x 24″L x 17″H
4471O1
TNX, orange, Large BuckPack Equipment Back Pack
4470B3
TNX, black, BuckPack Equipment Back Pack
41333O1R5S
TNX, orange, velcro rain flap, rubber bottom, 2 outside pockets, 11W x 24L x 19″H
45333B3R5S
TNX, black, velcro rain flap, rubber bottom, 2 outside pockets, 11W x 24L x 19″H
47333B3R5S
TNX, black, velcro rain flap, rubber bottom, 2 outside pkts.- Wide Mouth
47333G9R5S
TNX, green, velcro rain flap, rubber bottom, 2 outside pkts.Wide Mouth
 

HAND TOOLS All listed items required

HD2139NETH
Klien Pliers, HD w/ oversized handles and bolt-thread holding, 5/8″, 9″
D507-12
Klein Adjustable Wrench, HD dipped handle, 1-5/16″ capacity. 10-3/8″
D502-10
Klein Pump Pliers, 2-3/8″ jaw opening, 10″
602-6
Klein Screwdriver, round shank, 3/8″ tip, 13-7/16″
151T
Lowell Wrench, ratcheting, botl through design, socket openings of 3/4″, 1″ and 1 -1/8″ square, 13″
BW223HD
Rauckman BugWrench, 9/16″ & 3/4″ hex capacity, 9″ – HD Drive
809-36MF
Klein Hammer, 36 oz, mill faced, 14″
911-6
Klein Rule, fiberglass, outside read, 6′
 

PERSONAL PROTECTIVE GEAR All listed items required

33YLR
Bullard Hard Hat, full brim, yellow, with ratchet suspension, 6 pt.
ES42
Bullard Hard Hat Chin Strap
XX600
OccuNomix Hard Hat Liner, long neck, FR rated
365DLX2
Superior Lineman Glove, water repellent leather, Kevlar sewn
16GB80
Gateway Safety Glasses, clear
16GB83
Gateway Safety Glasses, smoke
2402
Handline Carrier Hook
Safety Toe Boots (Steel or composite; 8″ cuff or taller; lineman shank, double shank or logger shank)
Total average price $2,000-$2,500
Read More