COVID-19
As Maine's community colleges continue to work toward keeping our community members safe and healthy during the ongoing pandemic, it is essential that everyone stays informed. KVCC will continue to provide information as the pandemic develops and changes. Please check back regularly for updates.
All seven colleges within the Maine Community College System have removed the vaccination requirement for attending live, in-person classes. Please note that specific programs–especially those in the health care fields–may still require proof of vaccination.
The Maine Community College System is also posting regular updates and information about COVID-19. For answers to frequently asked questions about COVID-19 and the community colleges' response, please visit the MCCS COVID-19 information page.
Important Information for Spring and Summer 2023:
1. If you become sick with COVID-like symptoms, you are expected to remain off-campus until your symptoms improve, regardless as to whether you have tested positive for COVID-19. To continue to keep each other safe and healthy, we should avoid exposing each other to colds and influenza, as well as COVID-19!
2. COVID-negative individuals who have been exposed to the COVID virus are still able to come to campus, so long as they remain asymptomatic.
3. Following the Federal CDC's guidance, COVID-positive individuals are expected to remain off-campus for five days after symptom onset (or testing positive if they are asymptomatic. COVID-positive individuals will then have to wear an approved face covering indoors while on campus for five days additional days.
The College's Emergency Response Team is leading the college's response to the COVID-19 virus. If you have questions or concerns, please contact Kevin Casey, Dean of Technology and Chief Security Officer, by emailing kcasey@kvcc.me.edu.
Archived COVID-related Information:
Important Information for Fall 2022
Back Together @ KVCC
KVCC will be holding most classes on campus and in person this Fall. We're able to take this step toward a more normal KVCC experience because of the ongoing commitment of our faculty, staff and students over the last year. And while the College has updated its COVID-19 protocols for Fall 2022, the health and safety of our community continues to be our top priority, so we will continue to assess the situation and follow the guidance of the Maine Community College System, the State and Federal Centers for Disease Control, and our health care partners.
Face Coverings:
The College remains "mask friendly," which means anyone who wishes to wear a mask is encouraged to do so. Face coverings are not required within campus buildings, however. We will continue to monitor the state of the pandemic as the semester progresses, and work with the Maine Community College System to modify this face covering guidance as appropriate.
COVID-19 Vaccinations:
Due to a surge in cases and the latest information about the delta variant, the Maine Community College Board of Trustees has voted on a vaccine protocol requiring all students and trainees at Maine's community colleges in person to be vaccinated against COVID-19.
The protocol applies to any student or trainee accessing MCCS facilities, including off-site education centers
The protocol does not apply to students who are fully remote and will not be entering campus buildings for any purpose
The protocol does not apply when MCCS instructors are providing training at a business for its employees, or at a CTE center or high school for high school students
Students must provide proof they received at least one dose of a COVID-19 vaccine prior to attending their first in-person class. Students who require a second dose of a vaccine must provide proof of the second dose no later than 30 days from the date of their first in-person class
Students may request an exemption from the vaccination protocol. MCCS will grant exemptions for individuals who cannot be vaccinated for documented medical reasons. The Maine Community College System will not consider exemptions based on religious or philosophical beliefs, in line with Maine's post-secondary vaccination law taking effect September 1. Any student granted an exemption will be required to take weekly COVID tests and provide the test results to a designated college official.
Students who decline to get vaccinated are still welcome to enroll in MCCS classes offered remotely, and access student services remotely
Submitting Proof of Vaccination:
Students must provide proof of their COVID-19 vaccines by bringing a copy to the Enrollment Services Center in the Frye Building on the Fairfield campus, OR a copy of their card can be scanned and emailed to enrollment@kvcc.me.edu, just as you provide proof of other immunizations before being permitted to attend classes.
Daily Health Screening
Members of our community no longer need to complete a daily health screening to access college buildings. Any individual exhibiting COVID-like symptoms or who tests positive will follow CDC guidance and refrain from coming to campus until their symptoms have improved and they are fever free. Close contacts should watch for symptoms, and get tested as appropriate. The Federal CDC's guidelines regarding isolation and quarantine can be found here:
https://www.cdc.gov/coronavirus/2019-ncov/your-health/quarantine-isolation.html
General Information
The College has partnered with MaineGeneral Hospital in Augusta to help answer any general flu or coronavirus-specific questions or concerns you might have. Members of the KVCC community should contact the Safety and Security Department at 453-5811 (KV11) to be put in touch with MaineGeneral's Infection Preventionist.
Frequently Asked Questions
Q: What if I can't get the COVID-19 vaccine?
A: If you are unable to locate a vaccination site, the State of Maine has a searchable vaccine database, found here: https://www.maine.gov/covid19/vaccines/vaccination-sites.
Q: I'm unsure about getting vaccinated. Where can I go to get more information?
A: We recommend this site from the Federal Centers for Disease Control: https://www.cdc.gov/coronavirus/2019-ncov/vaccines/faq.html
Q: Do I need to wear a mask on campus?
A: Students are not currently required to wear a facemask on campus either in an outdoor or indoor setting, but may choose to wear one. KVCC is a "mask friendly" college, and the expectation is that anyone should feel free to wear a mask at their discretion. Remember–some of us may be immunocompromised or live with someone who is, and those who are recovering from COVID-19 need to wear a mask for five days after isolation. There are many reasons why some of us might wear a mask, and we should be allowed to do so without judgement.
Q: Are COVID-19 vaccines required for students on campus?
A: Proof of vaccination is required of all students taking classes within College facilities. For more information, visit: https://www.mccs.me.edu/covid-19/vaccine-protocol/.
Q: Are COVID-19 boosters required for students on campus?
A: Proof of booster shots are strongly recommended, but not required.
Q: I've recently had COVID. Do I need to provide a negative test to return to campus?
A: No–those who have had COVID-10 can return to campus five days after symptom onset (or after their positive test, if they were asymptomatic), as long as their symptoms have improved, and they have no fever. Those returning to campus after having COVID should wear an approved face covering within College buildings for five more days after the end of their isolation period. KVCC follows the Federal CDC's guidance regarding isolation, which can be found here: https://www.cdc.gov/coronavirus/2019-ncov/your-health/isolation.html
Q: I have COVID-like symptoms, but I'd prefer not to test. Can I just return to campus once I feel better?
A: No. If you have COVID symptoms but don't test, you might return to campus before the recommended CDC isolation period is over, and would probably do so without a mask. This would put others on campus in jeopardy of contracting the virus from you, and so this is not permitted.
Q: I have COVID-19. What should I do?
A: If you test positive for COVID-19, please let us know by emailing covid-19@kvcc.me.edu. In that email, please provide the date your symptoms began, or—if you have no symptoms—the date of your positive test.
Please also let your instructors know so that they can work with you to create a plan for making up any lost work.
Q: Will testing be provided on campus?
A: Although tests are now widely available and can be acquired for free through the Federal government, you can request to be tested (using a rapid/antigen test) through our Safety and Security department by emailing covid-19@kvcc.me.edu.
Q: What should I do if I think my symptoms are due to seasonal allergies?
A: Some allergy symptoms overlap with symptoms of COVID-19. Get tested for COVID-19 if you normally experience seasonal allergies and also have:
Any symptoms after a close contact exposure to an individual with COVID-19
Any symptoms that are not typically associated with seasonal allergies, such as fever, chills, body aches, or loss of taste or smell
Any new symptoms you don't normally experience with your allergies
Allergy symptoms that occur when you normally wouldn't have them
Allergy symptoms that don't respond to your usual allergy medications.
Q: I was exposed to someone who had COVID-19. What should I do?
A: If you were within six feet of someone for 15 minutes or more within a twenty-four hour period, you should test five days after exposure, and wear a mask until ten days after exposure. Please see this link for more information about post-exposure behavior: https://www.cdc.gov/coronavirus/2019-ncov/your-health/if-you-were-exposed.html
Please also note that the 6 feet/15 minute rule is only a "rule of thumb," and that other factors such as ventilation, if the sick person was symptomatic, and masking are all important considerations. The CDC has a helpful site related to these risks here: https://www.cdc.gov/coronavirus/2019-ncov/your-health/risks-exposure.html
https://www.cdc.gov/coronavirus/2019-ncov/vaccines/facts.html
Q. Will student clubs and organizations still meet in person (as well as virtually) in the fall?
A: Students and student groups are encouraged to meet live and in person this fall, as long as our pandemic-related protocols are adhered to.
COVID-19 Testing Sites in Maine
The links below to Maine COVID-19 testing sites are provided to help members of our college community who believe they have COVID-19 related symptoms or who have been exposed to the virus.
Please remember to consult your primary care provider if you have COVID-19 symptoms, known COVID-19 exposure, or for other COVID-19 related questions or concerns.
https://www.maine.gov/covid19/restartingmaine/keepmainehealthy/testing A regularly updated list of testing sites from the State of Maine
General COVID-19 & Flu Information
KVCC is in close, regular contact with the Maine Center for Disease Control and Prevention (Maine CDC) concerning the recent coronavirus outbreak that originated in central China. It's important to note that Maine has no confirmed or suspected cases associated with the 2019 coronavirus.
These sites contain a wealth of up-to-date information about the coronavirus:
Maine CDC Coronavirus Guidance: http://www.maine.gov/dhhs/coronavirus
U.S. CDC Coronavirus site: https://www.cdc.gov/coronavirus/2019-ncov/index.html
Social Stigma and COVID-19
As the College continues to manage its way through the challenges associated with this outbreak, it's important that we remain true to our values, and continue to support each other. Below is a guide from the World Health Organization that provides information on avoiding social stigma related to the pandemic:
https://www.who.int/docs/default-source/coronaviruse/covid19-stigma-guide.pdf
General Flu Information and Prevention:
Although the coronavirus does constitute a special area of concern, more common strains of flu and related illnesses are serious enough that we should all take the following flu tips and facts to heart.
What is influenza (flu)?
The flu is a respiratory disease caused by a virus that attacks the nose, throat, and lungs. Illness is usually mild or moderate, not requiring hospitalization. However, at times flu can be severe, even leading to death. It is not the same as the "stomach flu."
What are the symptoms?
Flu symptoms include fever, dry cough, sore throat, headache, extreme tiredness, and body aches. These symptoms usually begin suddenly and might be severe enough to stop your daily activities.
How is the flu different from a cold?
Colds are generally less serious than the flu. With a cold, you're more likely to have a runny or stuffy nose, while the flu causes body aches, fever, and extreme tiredness. A person with a cold can usually conduct their normal activities, but someone with the flu can't. Flu can result in serious health problems like pneumonia, bacterial infections, and hospitalization.
What can I do to protect myself and others?
Consider a flu vaccination
Avoid being around others who are sick
Cover your nose and mouth with a tissue or your sleeve when you cough or sneeze
Wash your hands often with soap and water, or an alcohol-based, waterless hand sanitizer
What do I do if I think I have the flu?
Stay home if you are sick
Avoid contact with others
Rest and drink lots of fluids
Go to the doctor or the emergency room if you are having difficulty breathing or shortness of breath, experiencing sudden dizziness, or having severe or persistent vomiting
Additional hand sanitizer stations and free, personal sanitizers are available throughout both campuses, for your safety and convenience.
November 6 Update
Due to the surge in COVID-19 cases across the State, the Governor's Office has amended its Executive Orders related to face coverings.
The following changes to KVCC's face covering protocols are effective immediately:
"Face coverings must now be worn in public settings regardless of how far apart you are from other people."
What this means for members of the KVCC community specifically is that we are all required to wear appropriate face coverings while on either campus–indoors and outdoors–even if we are able to maintain appropriate social distance. Please contact COVID-19@kvcc.me.edu with any questions or concerns.
July 9 Update
April 22 Update
March 31 Update
March 24 Update
The letter below was emailed to all members of the KVCC Community on March 24th, and the original PDF can be downloaded at this link: 2020 KVCC COVID-19 Message 032420

March 18 Update
The letter below was emailed to all members of the KVCC Community on March 18th, and the original PDF can be downloaded at this link: 2020 KVCC Status RE COVID-19 031820 RH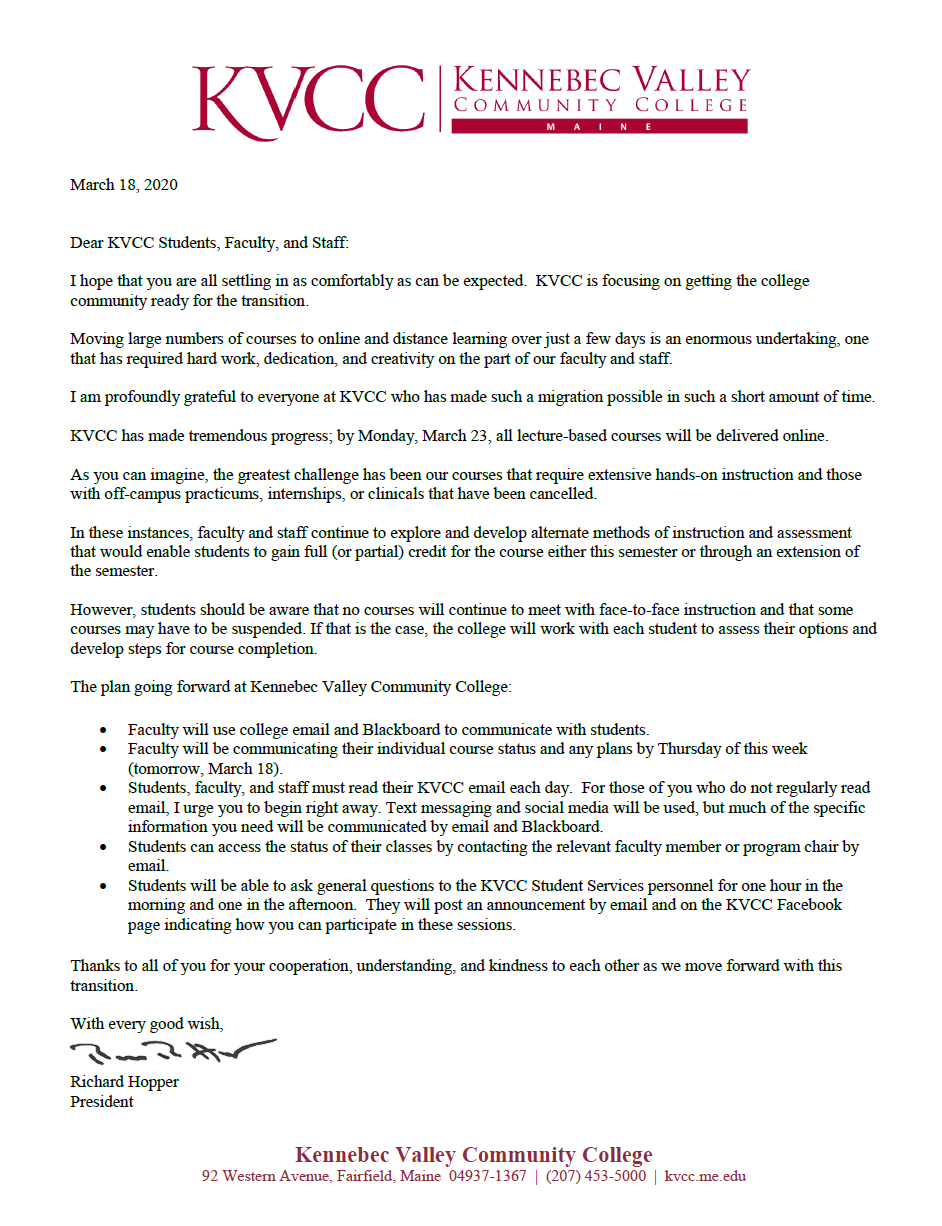 March 12 Update
The letter below was emailed to all members of the KVCC Community on March 12th, and the original PDF can be downloaded at this link: 2020 KVCC Status RE COVID-19 031220 RH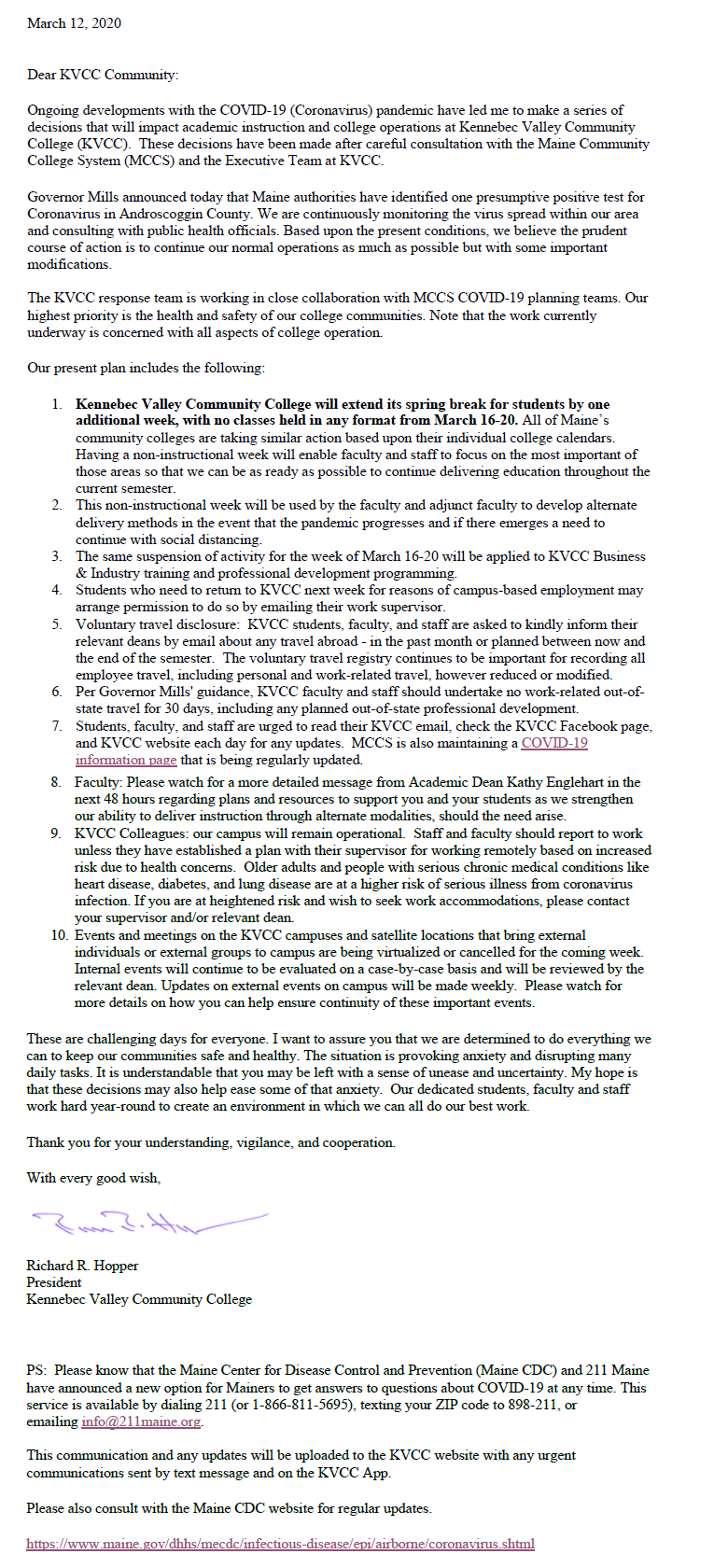 Read More