coronavirus
As Maine's community colleges continue to manage the COVID-19 pandemic on our campuses, it is essential that everyone stays informed. This is a rapidly evolving situation, and we will continue to provide information as it develops and changes. Please check back regularly for updates.
The Maine Community College System is also posting regular updates and information about COVID-19. For answers to frequently asked questions about COVID-19 and the community colleges' response, please visit the MCCS COVID-19 information page.
The College has partnered with MaineGeneral Hospital in Augusta to help answer any general flu or coronavirus-specific questions or concerns you might have. Members of the KVCC community should contact the Safety and Security Department at 453-5811 (KV11) to be put in touch with MaineGeneral's Infection Preventionist.
The College's Emergency Response Team is leading the college's response to the COVID-19 virus.  If you have questions or concerns, please contact Kevin Casey, Dean of Technology and Chief Security Officer, by emailing kcasey@kvcc.me.edu.
As part of KVCC's commitment to transparency, and in line with our belief that the communication of accurate and timely data is critical to combating this pandemic, we've created a dashboard to report all confirmed positive COVID-19 cases at the College:
Important Information for Fall 2022
Back Together @ KVCC
KVCC will be holding most classes on campus and in person this Fall. We're able to take this step toward a more normal KVCC experience because of the ongoing commitment of our faculty, staff and students over the last year.  We will continue to assess the situation and follow the guidance of the Maine Community College System, the State and Federal Centers for Disease Control, and our health care partners.
Face Coverings:
Although Maine's daily COVID case count is currently higher than in previous months, the COVID transmission rates in our region have allowed us to remove the face covering protocols at this time (except for those who are required to wear these because of a recent COVID infection). We will continue to monitor the state of the pandemic as the academic year progresses, and work with the Maine Community College System to modify this face covering guidance as appropriate.
COVID-19 Vaccinations:
The Maine Community College Board of Trustees has voted on a vaccine protocol requiring all students and trainees at Maine's community colleges in person to be vaccinated against COVID-19.
The protocol applies to any student or trainee accessing MCCS facilities, including off-site education centers
The protocol does not apply to students who are fully remote and will not be entering campus buildings for any purpose
The protocol does not apply when MCCS instructors are providing training at a business for its employees, or at a CTE center or high school for high school students
Students must provide proof they received at least one dose of a COVID-19 vaccine prior to attending their first in-person class. Students who require a second dose of a vaccine must provide proof of the second dose no later than 30 days from the date of their first in-person class
Students may request an exemption from the vaccination protocol. MCCS will grant exemptions for individuals who cannot be vaccinated for documented medical reasons. The Maine Community College System will not consider exemptions based on religious or philosophical beliefs, in line with Maine's post-secondary vaccination law taking effect September 1. Any student granted an exemption will be required to take weekly COVID tests and provide the test results to a designated college official.
Students who decline to get vaccinated are still welcome to enroll in MCCS classes offered remotely, and access student services remotely
Students are not required to provide proof of a COVID-19 booster shot, though the Maine Community College System recommends these.
What to Know about Academic Support Services
November 6 Update
Due to the surge in COVID-19 cases across the State, the Governor's Office has amended its Executive Orders related to face coverings.
The following changes to KVCC's face covering protocols are effective immediately:
"Face coverings must now be worn in public settings regardless of how far apart you are from other people."
What this means for members of the KVCC community specifically is that we are all required to wear appropriate face coverings while on either campus–indoors and outdoors–even if we are able to maintain appropriate social distance. Please contact COVID-19@kvcc.me.edu with any questions or concerns.
July 9 Update
April 22 Update
March 31 Update
March 24 Update
The letter below was emailed to all members of the KVCC Community on March 24th, and the original PDF can be downloaded at this link: 2020 KVCC COVID-19  Message 032420

March 18 Update
The letter below was emailed to all members of the KVCC Community on March 18th, and the original PDF can be downloaded at this link: 2020 KVCC Status RE COVID-19 031820 RH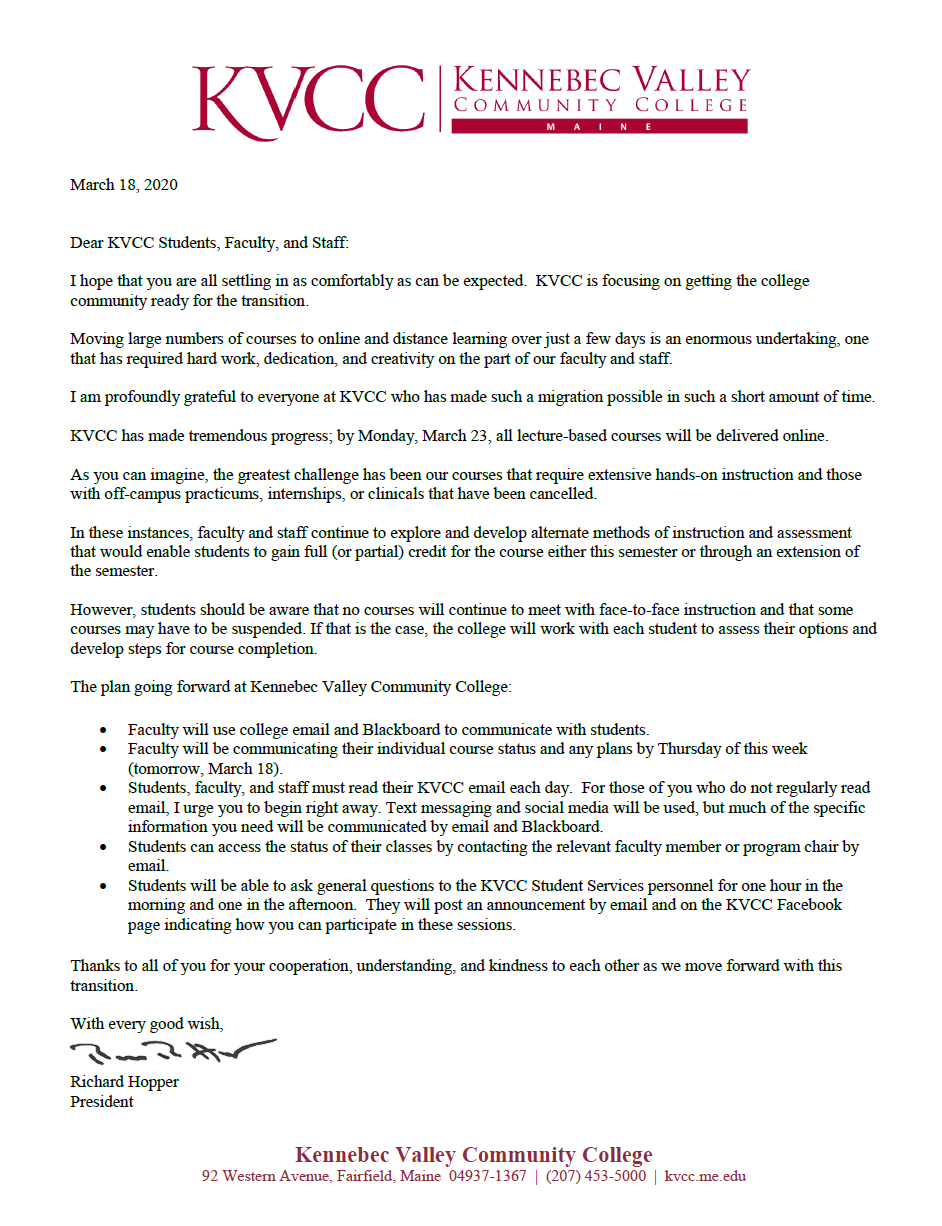 March 12 Update
The letter below was emailed to all members of the KVCC Community on March 12th, and the original PDF can be downloaded at this link: 2020 KVCC Status RE COVID-19 031220 RH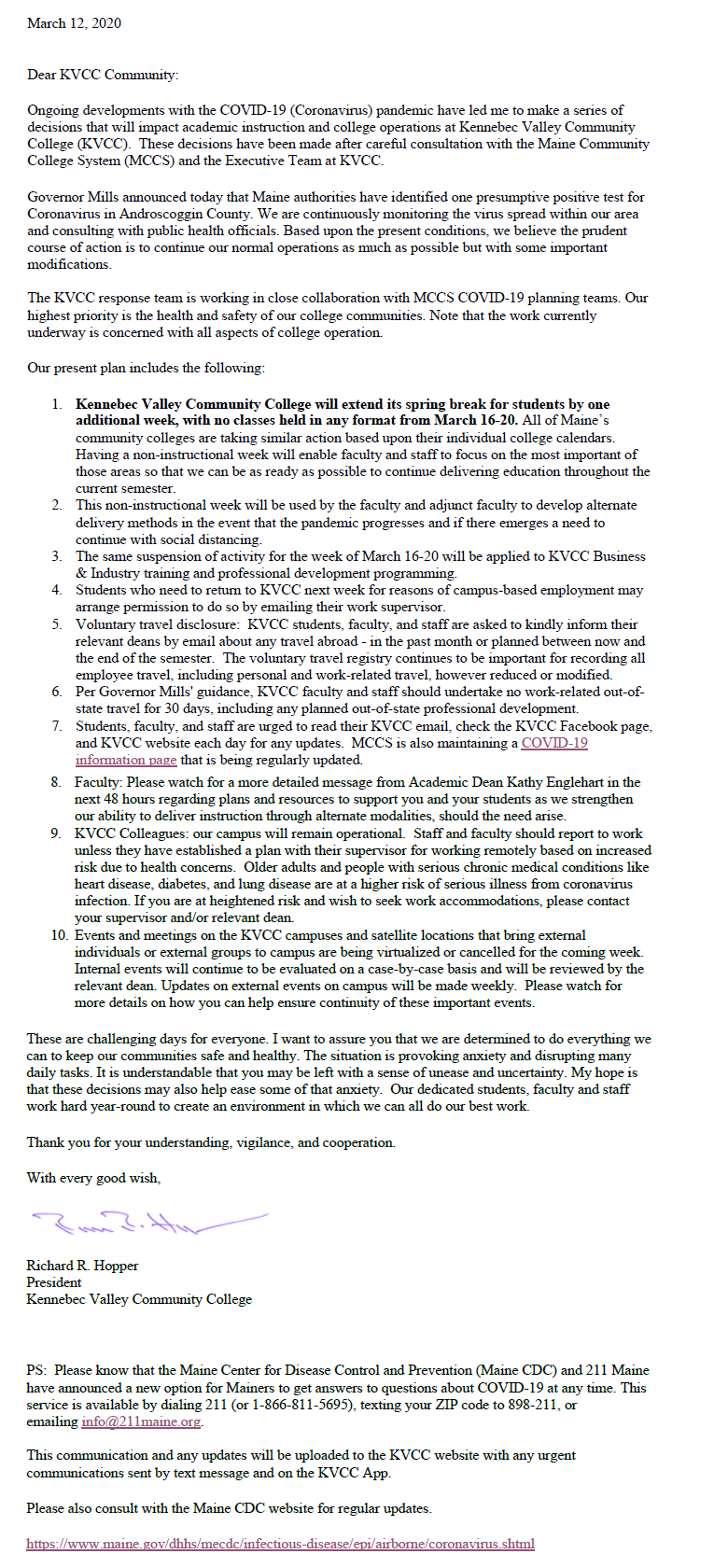 COVID-19 Testing Sites in Maine
The links below to Maine COVID-19 testing sites are provided to help members of our college community who believe they have COVID-19 related symptoms, have been exposed to the virus, or who wish to be tested after traveling outside the state of Maine to avoid a self-quarantine period.
Please keep in mind that most of these testing sites require an appointment, and many are limited to those with symptoms or known COVID-19 exposure. And please remember to consult your primary care provider if you have COVID-19 symptoms, known COVID-19 exposure, or for other COVID-19 related questions or concerns.
https://get-tested-covid19.org/    A volunteer-run organization with a zip code searchable database of Maine testing sites
https://www.maine.gov/covid19/restartingmaine/keepmainehealthy/testing    A regularly updated list of testing sites from the State of Maine
General COVID-19 & Flu Information
KVCC is in close, regular contact with the Maine Center for Disease Control and Prevention (Maine CDC) concerning the recent coronavirus outbreak that originated in central China. It's important to note that Maine has no confirmed or suspected cases associated with the 2019 coronavirus.
These sites contain a wealth of up-to-date information about the coronavirus:
Maine CDC Coronavirus Guidance: http://www.maine.gov/dhhs/coronavirus
U.S. CDC Coronavirus site: https://www.cdc.gov/coronavirus/2019-ncov/index.html
Social Stigma and COVID-19
As the College continues to manage its way through the challenges associated with this outbreak, it's important that we remain true to our values, and continue to support each other. Below is a guide from the World Health Organization that provides information on avoiding social stigma related to the pandemic:
https://www.who.int/docs/default-source/coronaviruse/covid19-stigma-guide.pdf
General Flu Information and Prevention:
Although the coronavirus does constitute a special area of concern, more common strains of flu and related illnesses are serious enough that we should all take the following flu tips and facts to heart.
What is influenza (flu)?
The flu is a respiratory disease caused by a virus that attacks the nose, throat, and lungs. Illness is usually mild or moderate, not requiring hospitalization. However, at times flu can be severe, even leading to death. It is not the same as the "stomach flu."
What are the symptoms?
Flu symptoms include fever, dry cough, sore throat, headache, extreme tiredness, and body aches. These symptoms usually begin suddenly and might be severe enough to stop your daily activities.
How is the flu different from a cold?
Colds are generally less serious than the flu. With a cold, you're more likely to have a runny or stuffy nose, while the flu causes body aches, fever, and extreme tiredness. A person with a cold can usually conduct their normal activities, but someone with the flu can't. Flu can result in serious health problems like pneumonia, bacterial infections, and hospitalization.
What can I do to protect myself and others?
Consider a flu vaccination
Avoid being around others who are sick
Cover your nose and mouth with a tissue or your sleeve when you cough or sneeze
Wash your hands often with soap and water, or an alcohol-based, waterless hand sanitizer
What do I do if I think I have the flu?
Stay home if you are sick
Avoid contact with others
Rest and drink lots of fluids
Go to the doctor or the emergency room if you are having difficulty breathing or shortness of breath, experiencing sudden dizziness, or having severe or persistent vomiting
Additional hand sanitizer stations and free, personal sanitizers are available throughout both campuses, for your safety and convenience.
Read More