Pass the Kindness Week (2/14 to 2/18)
Date/Time
Date(s) - 02/14/2022 - 02/18/2022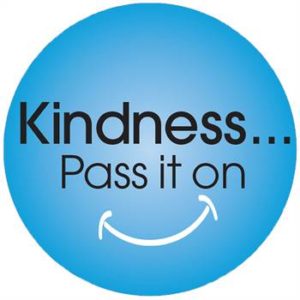 The Kennebec Valley Community College has a culture of kindness.  During the week of February 14 through February 18, we amplify our efforts and do our best to fully express kindness all around.  One act of kindness leads to another.  Pay it forward.  Share a smile! Our goal is to surpass 5000 acts of kindness in one week!
Get your Pass the Kindness shirt in advance!! Sizes are available from Small to 3X.  $15 each (proceeds support our own PTK club)!


Ordering is on the KV Events page until February 9th for shirts, bags, and the bake sale.  Click here to order!

Create a Kindness Secret Swap in your department or class (swap names and secretly spread kindness to them, revealing on Friday)
Engage in Random Acts of Kindness all week. Many ideas below!
Monday (2/14)
Give someone a sweet treat for Valentine's Day
Volunteer to help with the Food Pantry
Help someone in an unexpected way
Tuesday (2/15)
Let a friend, colleague, or teacher know why they're great!  Be specific!
Recycle something
Offer help to someone who is struggling
Wednesday (2/16)
Wear your Pass the Kindness shirt today!
Leave encouraging post it notes on the bathroom mirror
Be kind to yourself!  Exercise for 10 minutes and get your heart pumping
Thursday (2/17)
Find opportunities to give compliments today
Do something kind for a stranger
Pick up five pieces of litter
Friday (2/18)
Give someone a high-5 or a hug
Make cookies or something for someone
Donate an item(s) you no longer use